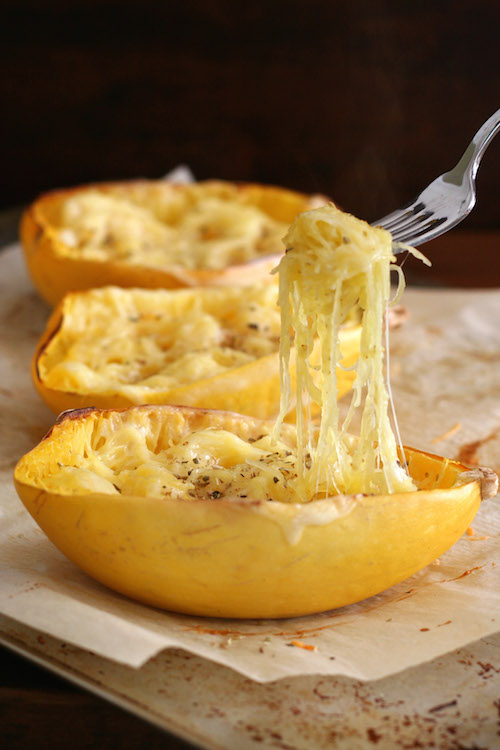 Low Carb Twice Baked Spaghetti Squash Recipe. Need something that's low carb and cheesy? Then check out this simple and delicious Twice Baked Spaghetti Squash.

Spaghetti squash with butter, garlic and Parmesan, baked with a layer of gooey provolone cheese on top. A low carb side dish to rival any pasta recipe!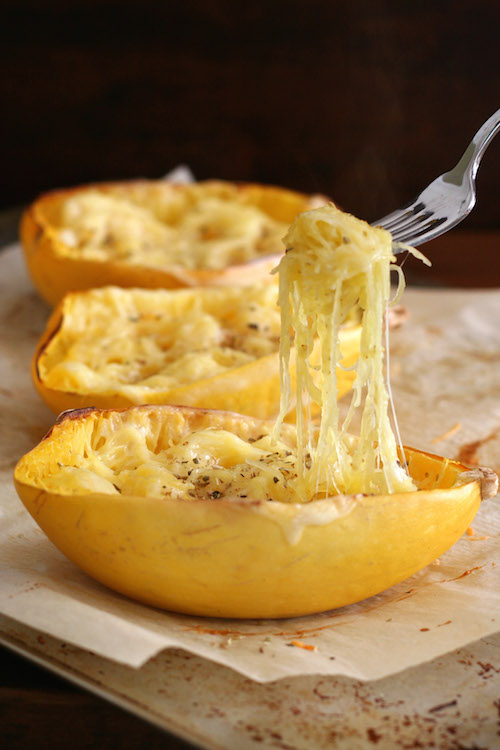 Ingredients:

2 small spaghetti squash or one large
2 tbsp butter
1/2 cup grated Parmesan cheese
2 cloves garlic, minced
1 tsp dried oregano
1/4 tsp salt
1/4 tsp pepper
4 slices Provolone cheese
Preparation:
Preheat oven to 350F and line a large baking sheet with foil.
Using a very sharp large knife, cut squash in half lengthwise and scoop out and discard seeds. Bake 60 to 90 minutes, depending on size of squash. They should be quite tender and squeeze easily.
Scoop flesh into a large bowl and reserve squash skins. Add butter and let melt, then add Parmesan, garlic, oregano, salt and pepper. Toss until well combined.
Divide mixture among reserved skins and top with sliced Provolone. Return to oven and bake another 8 to 10 minutes, or until cheese is melted and bubbly.
Serves: 4 – 6
Nutrition Info: For 4 servings, each serving has 230 Calories; 17g Fat (64.7% calories from fat); 12g Protein; 9g Carbohydrate; trace Dietary Fiber; 43mg Cholesterol; 644mg Sodium.
Related articles